Chill and Thrill: Winter Activities & Happenings in Northern Arizona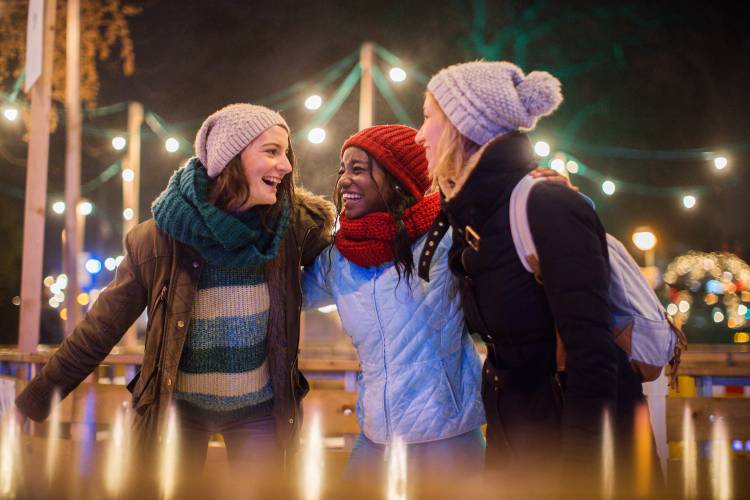 Northern Arizona is an excellent winter destination where visitors can experience snowy landscapes and exhilarating outdoor activities. If you're seeking an adventure-filled winter vacation, there is no better place than the Grand Canyon State. From skiing on the mountain slopes to enjoying the natural hot springs, Northern Arizona offers breathtaking winter activities that will keep you entertained throughout the season. In this blog post, we'll explore the top 10 awesome winter activities in Northern Arizona that you don't want to miss.
Outdoor Activities 
Skiing and Snowboarding
Arizona is not typically known for skiing, but in Northern Arizona, you can hit the slopes at Arizona Snowbowl in Flagstaff. With over 2,300 feet of vertical drop, the mountain offers a variety of runs for all skill levels. The ski season usually runs from mid-November till April, and there are ski lessons and equipment rentals available.
Snowshoeing
Take a guided snowshoeing tour through the Coconino National Forest and witness the beautiful winter landscapes. Tour operators in Flagstaff and Sedona offer snowshoe rentals and guided tours for all skill levels. Enjoy a peaceful winter outing through pine forests and snowdrifts while learning about Northern Arizona's history and geology.
Ice Skating
Arizona has a few outdoor ice skating rinks perfect for families and couples. The Williams Winter Wonderland rink in Williams and Flagstaff's Pepsi Amphitheater both have picturesque settings and skate rentals available. Enjoy your winter days skating on the ice surrounded by the stunning Arizona landscapes.
Hot Spring Soaking
Are you looking to relax and unwind during your winter vacation? Head to the hot springs and soak in the natural mineral waters. A few popular spots are Prescott's Hot Springs, Verde Hot Springs in Camp Verde, and The Huckaby Trailhead in Sedona. The hot springs offer magnificent views of the surrounding red rocks and mountains, which makes for an immersive and rejuvenating winter experience.
Sledding and Tubing
Enjoy a family-friendly winter activity by sledding or tubing in Northern Arizona. There are several locations, including Crowley Pit and Wing Mountain Snow Play Area near Flagstaff, where visitors can rent sleds or bring their own. The activity is fun for people of all ages and is the perfect way to create lasting memories.
Winter Hiking
Although Northern Arizona is known for its arid climate, winter hiking can be a magical experience. The desert climate changes rapidly during winter, creating breathtaking winter vistas. Sedona's Red Rock State Park, Flagstaff's Humphreys Peak, and Oak Creek Canyon offer beautiful winter hiking trails. The trails are less crowded during winter, allowing visitors to enjoy the peaceful scenery in solitude.
Snowmobiling
Get your adrenaline pumping with a snowmobiling adventure through the snow-covered pine forests. Several tour operators in Flagstaff and Williams offer snowmobiling rentals and tours during winter months, allowing visitors to enjoy the winter landscapes at high speeds safely.
Attend the Festive Celebrations 
Northern Arizona embraces the spirit of Christmas with a variety of vibrant festive celebrations. Whether it's the holiday lights of Tinsel Town at Little America, the famous Polar Express™ train ride in Williams, or the luminarias of Sedona's Tlaquepaque, each event offers a unique experience. Furthermore, the charming mountain towns such as Flagstaff and Prescott come alive with parades, tree-lighting ceremonies, and Christmas markets. Christmas Lights are displayed everywhere. Drive through festive and charming holiday light displays in Northern Arizona's towns and cities. Light displays, such as the Arizona Mountain Festival of Lights in Prescott and the Sedona Northern Lights event, are perfect for people of all ages and offer a blend of natural and electronic illumination. These events are ideal for families and travelers who want to soak in the festive atmosphere.
Relax and Unwind
If cold outdoor activities are not your thing, fear not; Northern Arizona has an endless list of indoor winter activities. Visit the Lowell Observatory Museum, Oak Creek Brewing Company, or the Verde Valley Wine Trail to taste local wine. Indoor activities offer a comfortable and relaxed alternative to outdoor winter activities.
If you prefer a more relaxed pace, Northern Arizona has got you covered. The region is home to many hot springs, spas, and wellness centers. You can treat yourself to a hot soak in the hot springs, a rejuvenating spa treatment, or a yoga session in the snow. Alternatively, you can cuddle up in a cozy cabin with a book or binge-watch your favorite Christmas movies. With all the hustle and bustle of the season, relaxing and unwinding is a must.
Indulge in the Local Cuisine
Northern Arizona's food scene is diverse and delicious. During the holiday season, restaurants and cafes serve special dishes and holiday-themed drinks that will tantalize your taste buds. The region is a foodie's paradise, from traditional Navajo fry bread to hearty stews, gourmet burgers, and Christmas cookies. You can also visit the local wineries, breweries, and distilleries and indulge in the region's finest beverages.
Now is the time to book your Northern Arizona getaway!
Northern Arizona is the perfect winter destination for those looking to experience winter activities and breathtaking natural landscapes. From skiing on mountain slopes to soaking in natural hot springs, Northern Arizona offers unique winter activities to suit every traveler's needs. The diverse experiences guarantee visitors steep and thrilling adventures, and scenic winter landscapes, enabling them to create unforgettable memories. Plan your winter trip today and experience the beauty of Northern Arizona.